UK: Female Muslim doctors 'must remove veil'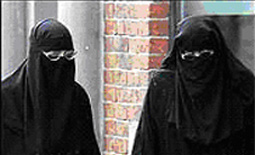 Telegraph
Female Muslim doctors must be prepared to remove their veil to treat patients effectively, under new guidelines issued yesterday.
Religious clothing must not present a barrier to building trust and communicating with patients, the General Medical Council said.
Doctors should be prepared to set aside personal and cultural preferences, advised the document, Personal Beliefs and Medical Practice.
The council also said doctors must be open about procedures they object to because of their beliefs, such as abortion.
The Muslim Council of Great Britain supports the GMC guidance saying that female Muslim doctors have a responsibility to put patient care first.
Women could wear the hijab, which covers the head but not the face.
Dr Abdullah Shehu, the chairman of the Muslim Council's medical committee, said: "While wearing a veil does not preclude someone from practising medicine, there is no harm in removing it where the ability to communicate or care for the patient is compromised. The Muslim community very much welcomes this guidance."
The guidance states: "Some patients, for example, may find that a face veil worn by their doctor presents an obstacle to effective communication and the development of trust.
"You must be prepared to respond to a patient's individual needs and take steps to anticipate and overcome any perceived barrier to communication."
Other issues covered by the guidance are that doctors cannot refuse to care for patients before or after having an abortion because they object to the procedure.
They must also respect the views of Jehovah's Witnesses, who refuse treatment if it involves having blood transfusions.