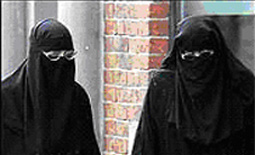 Veils to be lifted at British airports
LONDON, Dec. 24 (UPI) -- Immigration officers at British airports will begin lifting the veils of passengers to verify identity, The Scotsman said Sunday.
The order came after it was revealed that suspected killer Mustaf Jama flew from London's Heathrow airport to Somalia using his sister's passport. He is believed to have worn a woman's niqab, which has just a slit for eyes, and was not required to lift the veil.
The requirement has drawn criticism from unions claiming it will impose impossible demands on its members, particularly women, who would be the only ones allowed to look under the veils, the Scotsman said.
Home Secretary John Reid is planning to enforce the requirement before considering more stringent measures, a Home Office official said. The Immigration Act 1971 requires everyone entering the Britain to satisfy an immigration officer's inquiry regarding nationality and identity.
In instances when it is not possible to remove a veil or other garment at immigration control, the person is taken to a private area for verification.