Egypt 'spent £1.7m on teargas' amid economic crisis
Activists condemn government's purchase of 140,000 canisters at a time when foreign reserves are at critical low and IMF loan is delayed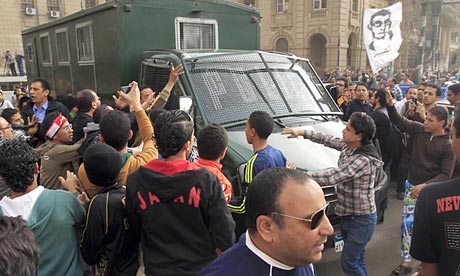 Egyptian protesters attack a police vehicle during a demonstration in Cairo. Activists have labelled the wave of police brutality as a return to Mubarak-era repression. Photograph: Mohamed Abd El Ghany/Reuters
Egypt spent the equivalent of £1.7m on 140,000 US-sourced teargas canisters last month, despite the Egyptian government nearing bankruptcy – and amid a wave of police brutality that 21 human rights groups this week labelled a return to Mubarak-era state repression.
Egypt's interior ministry made the emergency order at the end of January, according to records retrieved by Egyptian broadsheet al-Masry al-Youm. It came at the start of a week of civil unrest sparked by protests against President Mohamed Morsi, his Muslim Brotherhood, and police malpractice.
Opposition activists have questioned the government's willingness to buy the teargas at a time when Egypt's foreign reserves have more than halved since 2011, the government has run out of money to pay for fuel subsidies, and officials have yet to agree the details of a much-needed and much-delayed IMF loan worth $4.8bn.
They also see it as yet another example of the government's unwillingness to rein in the police force, whose brutality was a major cause of the 2011 revolution that toppled Hosni Mubarak, and whose behaviour has come under renewed scrutiny this year.
"It's the same tactics the Mubarak regime used – spending taxpayers' money to kill the sons of taxpayers," said Hussein Abdel Ghany, a spokesman for the National Salvation Front, a disparate collection of non-Islamist opposition parties. "And at the same time they're cutting gas subsidies and raising taxes on cigarettes, which the only way some people get any joy."
Teargas has been repeatedly used during protests this year, at times rendering it unsafe to navigate thoroughfares in downtown Cairo that lie several streets from the clashes. At one point in January, Tahrir Doctors – a group of volunteer medics who treat protesters hurt in clashes – warned that teargas in Tahrir Square had reached dangerous levels.
But the teargas is just one part of a wave of violence that led 21 Egyptian rights groups to claim on Thursday that police brutality is as serious – or in some cases worse – than it was under Hosni Mubarak. Since the start of the unrest, sparked by the two-year anniversary of Mubarak's toppling on 25 January, activists say at least 70 protesters have been been tortured, with hundreds more detained without trial. In some cases, protesters have been murdered and raped.
The number of male activists raped in custody is higher than it has been for at least a decade, according to Hossam Bahgat, director of the Egyptian Initiative for Personal Rights.
In one high-profile murder case, leftwing activist Mohamed el-Guindy was abducted for four days before being found at a hospital in a coma. Authorities claimed he had died in a car crash, but rights activists said they found torture marks on his tongue, as well as signs of strangulation and electrocution. Lawyers said he was abducted by police after a protest in late January before being held in a police camp outside Cairo. "You couldn't recognise his face from a photograph, it was so swollen," said Islam Khalifa, a human rights lawyer investigating Guindy's death, who visited him in hospital before he died.
Hundreds of children are also being targeted, activists said. At least 200 have been arrested, and many beaten, according to Amr Imam, a lawyer at the Hisham Mubarak Law Centre, a rights group. "The government thinks these children hold the torch of the revolution," Imam told film-makers from Mosireen, a protest-orientated media collective. "So they must get rid of them – destroy them, to put it plainly." A 13-year-old cancer patient from Alexandria – Mahmoud Adel – was confined to an adult prison for more than a week without access to his treatment.
Allies of Morsi have said it is unreasonable to blame the president for police malpractice, arguing that it will take 15 years to reform institutions as intransigent as the interior ministry and its police force.
"If it took them 60 years to build a system that corrupt, imagine how long it will take to reform it," said the Muslim Brotherhood's Gehad al-Haddad last month.
But Heba Morayef, head of the Egypt branch of Human Rights Watch, said Morsi has shown little inclination for police reform so far. "It's not just that he hasn't delivered on any changes, it's that he hasn't publicly acknowledged that there is a serious problem of police abuse," Morayef has said.